Getting the Working Permit in Vietnam to legally teach English is not as difficult as in countries where foreigners are forbidden to work.
As promised in this video, where I explain some reasons to work as English teacher in Vietnam, here is the list of documents required for a Working Permit in Vietnam :
University Degree

It doesn't have to be related to teaching, as long as you get an official English Teaching certification, as I specify below.
Attention: NEVER ever give your original degree, even if they insist a thousand times. Why? Well, they can use it to threaten and blackmail you, as Elink Vietnam did with me. Just give a notarized copy instead and if they reject that option, look for another place to work (there are thousands of places in the country. Avoid scammers!)
A Business Visa…
… with the company that is offering the job. For this visa, the company must do the invitation letter and send it to you before arriving in Vietnam, because you will need to show it in the airport, once you get to Vietnamese land.
A criminal or Police Check Record…
… made in your country or Embassy. This shows that you haven't committed any crime. In my case, as Colombian, I did it online and legalized it in the Embassy in Hanoi.
An English teaching certificate
It can be TEFL, TESOL, CELTA… It's not always complimentary, anyway, if you have studied a Major in English, or you are a native speaker and did a Bachelor's in something related to Teaching (please confirm this subject, as some companies have different standards).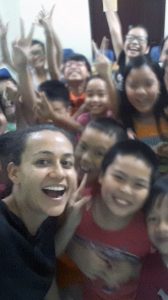 The price of the TEFL courses depends on the quantity of hours, the type of course and the institution or academy where you are doing it.
Suggestion: do at least the 120 hours' one because that was the minimum accepted by law, according to my employers).
It's possible to do the TEFL online but, once again, some companies don't accept this kind of training.
If you prefer the in-class TEFL courses, check these ones in Bangkok, Thailand, with a recognized company.
My case: problems with the legalization
I did my TEFL course with TEFL Full Circle but I wouldn't recommend it, as it was not easy to legalize (please read until the end so that you understand what is the legalization about).
.
I was not in the United Kingdom, where that TEFL company was based, and the UK Embassy asked me to legalize it in London, lol.
.
Therefore, I did a research on possible TEFL courses that can be recommended to you, with good reputation, and easy to legalize in Vietnam. I found out a serious company that gives different options to legalize the document (no need to travel to the US or UK to do it).
.
Its name is ITTT (International TEFL and TESOL Training) and I explain carefully the reasons to recommend it in this other post.
If you prefer the in-class TEFL courses, check these ones too in Bangkok, Thailand.
If you are not convinced to do it with them, just remember that the legalization step is very important to get a Working Permit in Vietnam.
REMINDER: Again, don't give the TEFL original certification either to your employer. Use only a notarized copy.
A letter certifying at least 3 years of teaching experience

To be honest, each person I met there invented this document. This is because (please, don't be shocked) in order to teach English in Vietnam you don't really need to be a good teacher.
You don't even have to speak good English. All you need is to have white skin and blue eyes (if you are white and have brown eyes, it's OK too, lol. They will «forgive» you). That's all they look for, as I tell you in this other post.
Temporary residence certificate
You can ask this letter to your landlord, once you choose a place to live in Vietnam.
Pictures
Ask your employer about the updated size required for the pictures.
A medical check
It can be done in some hospitals of Hanoi. It validates that you are able to work.
The legalization to get a Working Permit in Vietnam
The legalization is not the same as the apostille: as Vietnam is not part of the Hague Convention – by which an apostille certifies a document in any of the member states -, the procedure is different.
Usually, the future employer gives you information about this but taking into account that some enterprises try to take advantage of the teachers, I suggest you to do a little research on your own.
It's always good to ask in your country about all these documents before traveling, to avoid spending money on delivery and re-delivery.
My experience
I am a journalist, Master in International Affairs, that left everything in Colombia to travel around South East Asia. I did all these procedures once I arrived to Hanoi, Vietnam, the place where I taught English for 8 months.
My experience was not very pleasing, though, as I spent a horrible time dealing with an English Teaching mafia, called Elink Vietnam. As I don't want anyone to suffer the same, I decided to warn everybody.
Therefore, some reasons to do a little research before accepting any English teaching job in Vietnam…
UPDATE
The Vietnamese government created at the end of 2018 a new decree that tightens the regulation for foreign and Vietnamese English teachers. I personally ignore how this is going to affect the list of required documents, but you'd better ask your employer (but beware, as you cannot always trust your employer there), or a Vietnamese lawyer.