Elink Vietnam, the dodgy English teaching company that threatened me for not working without payment and that ignored me when I asked for my last salary, finally paid me. Why? Because of a big scene I did in front of the Public Schools where I worked in Hanoi.
Apparently, it is a common practice in the country not to pay on time, to threaten foreigners that decide to quit, and not to pay the last salary, if the person quits before the payday. Of course, I found everything out when I lived it first-hand after working for Elink Vietnam.
As I told you in the first part of this post, Elink Vietnam "offered" me some options to «continue working» with them, in some intimidating e-mails. I rejected them, of course. They told me to «continue working 'happily', no words on the disagreement» or to accept their conditions to «unilaterally cancel my contract».
I reminded them that they had said before that they understood my reasons. Absolute silence.
Elink Vietnam´s muteness about the salary
When they needed something, I had to answer immediately. When I wanted updated information about my salary, always muteness from Elink Vietnam. That was the behavior I had noticed during all those months. Therefore, I had no expectations and planned my next move.
As Elink Vietnam didn´t respond to politeness and dialogue, I decided to press a weak point that is common to some Asian cultures. Like a friend told me long time ago: "losing face" was all they cared about in Vietnam. He also said that I wouldn´t get anything by talking nicely.
Unfortunately, he was right: I had waited too much to react but finally, I was on my way.
The strategy against Elink Vietnam
I wrote a text for the parents of my students, explaining the situation: who I was and why I stopped teaching. Also, that Elink Vietnam had threatened me to kick me out of the country if I stopped working.
Besides that, I told them that I feared for the education of their kids, taking into account that the teachers were not being fully paid by Elink Vietnam. I also described the way they were treating the employees. Everything, translated to Vietnamese, of course.
I printed more than 200 copies of the document, where I also put a picture of Elink Vietnam's reception and the logo of the company. I waited in front of the schools when I knew the parents were going to pick up their kids.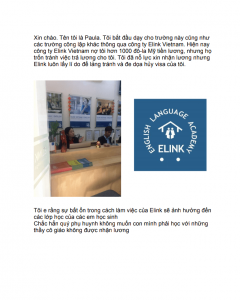 I handled the leaflets and asked my students (that, by the way, liked me a lot) to show them to everybody they knew.
Of course… If you are paying for the education of your kids, and you realize that some teachers are not getting paid, you start wondering: where is the money going at Elink Vietnam?
According to my friend, they were going to pay me straight away. «They will run like cockroaches», he said. The same day, almost at midnight, I received a message from Elink Vietnam.
– My boss wants to talk to you
– I don't need to talk anymore. I need my money
– Yes, we are going to pay you everything
– Everything according to whom? To you? 'Cause I suspect we don't have the same amount in mind
– I'm not an accountant
– OK, then please tell your accountant that I still have some schools left, and I have no problem in handling more papers.
Five minutes later, I received an e-mail with the amount. As suspected, they offered me an amount that I didn´t accept. At Elink Vietnam, they kept repeating like robots that I had not complied with the contract but the document said they had to pay interest rates if they were late. They had also promised in December a 10% pay rise for the inconveniences, which never came (lie). I had not forgot.
Elink Vietnam offered then a little more (never the 10% they had told us, as "it was not in the contract". For sure: they conveniently used that document when it benefited them but never to comply with their obligations).
After all this soap opera, I accepted it because they had taken a lot of energy from me and I all I wanted was this nightmare to be over. Actually, I thought it was over. At the end, Elink Vietnam would have learned a lesson (sigh!). I expected they would return my original University degree and my TEFL certification and other documents after they gave me the money… Well, guess what? Once again, they never replied any  e-mails.
Another chapter of the Elink Vietnam´s nightmare
Weeks after I got the payment, I texted their representative, saying I wouldn´t waste any more time waiting for them. They answered that they didn´t have the documents, as they were sent to the Ministry of Labour – once again, according to them- to cancel my Working Permit.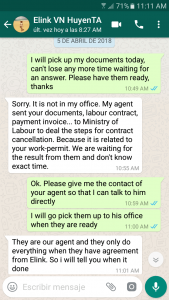 I was already used to their lies over and over again… but to confirm, I asked some Vietnamese friends that worked in Human Resources if it could be true. They told me it wasn't. Elink Vietnam was consciously keeping my documents.
I went to their office again, and they kept repeating that they did not have my documents (or any responsibility on them, when I gave them to do the Working Permit ).
Honestly, how many times I had to listen to Elink Vietnam's threats and lies?
At the moment  I am writing this, I am still trying to figure out how to get my documents.
Advice: a good dose of patience is always required with unprofessional companies that act like criminals.
UPDATE : Elink Vietnam returned my documents (19/04/2018)
I went to Elink  Vietnam's headquarters last weekend -really mad at them, shouting and asking if they were going to literally steal my documents-. I wanted to pick up my documents despite their lies, but they repeated the same statement: that I "didn't comply with the Vietnamese law" and that "their agent" had them, as they didn't  know "anything" about my degree and TEFL certification.
I already knew there was no way to talk like normal people at Elink Vietnam, as they had decided to "penalize" me for telling everyone the truth about their dubious practices.
Anyway, I went to the Police Station near the creepy company, together with a Vietnamese friend, to report the situation, in case they definitely wanted to steal my documents.
Elink Vietnam : a company or a gang?
Their agent called my friend (a Vietnamese man), few days later. He told him that I had to return -completely alone- to their headquarters to "talk about how I was not complying with the Vietnamese law, related to foreigners».
I mean… Hello? Excuse me? All I needed was my degree. I didn't have time nor patience to listen to their false speech over and over again. Aaaand of course I'm not that stupid to walk into the lion's den, all by myself.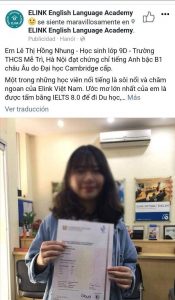 Elink Vietnam wanted me to fear them (was it an English teaching company or a mafia gang?) but honestly, I had nothing to fear. Even their ridiculous threats were lies.  I was so pissed off that I had absolutely nothing to lose. All I wanted was justice.
They said Elink Vietnam's director was going to call my friend again (so he DID have time then, but when I was still working and asked for my payment, he was always "very busy").
Nothing new: Elink Vietnam insisted on making me lose time, money, and patience, so I put myself a deadline.
Hadn't they realized  that I wasn't going to stop until they finally corrected their mistakes? Elink Vietnam learned nothing from how I made them pay my last salary. Anyway, their pride was nothing compared to my anger.
The next move on Elink Vietnam
If the person did not state when and where Elink Vietnam would return my degree, I would start sending e-mails to whoever had a working relationship with Elink Vietnam. 
So I did. I talked with their business partners and waited. I put myself another deadline to start sending e-mails to all my students (as I used to put them homework). I was writing those texts when I received a message from Elink Vietnam:
"One member of the staff will bring your documents around 4 pm tomorrow. Where can he go?"
That was all I wanted. They could have saved all the scandal by doing things right since the beginning, but hey! Those were the practices of Elink Vietnam, as I found out when I talked to other teachers about my problem.
In conclusion: Run as fast as you can if you ever get a job offer from Elink Vietnam!!!!!!!
Update August 2019
Elink Vietnam keeps scamming foreign teachers, even after the scandal. What changed, after me, was that now they don't post the company's name in the English teaching groups of Hanoi. Oh, and they closed their Fan Page on Facebook. They still have the same headquarters, though, as far as I know
I constantly receive messages from more and more teachers being scammed by them. Yep, they repeat the same pattern YEAR AFTER YEAR.
The foreign teachers' coordinator, Bram Wright (English), is aware of all those practices, created and boosted by «Mrs. Ngoc». He is not Vietnamese, as the other thieves of this gang, but participates in the scam as if he was one of them.
He lies the foreign teachers saying that «he hasn't been paid either» (how much are they giving you for this, Bram? Aren't you ashamed??? Nobody taught you some ETHICS????)
NEW TEACHERS: YOU CAN MAKE THEM PAY! PLEASE TEACH THEM A LESSON BECAUSE, APPARENTLY, THEY FORGOT MINE!!!